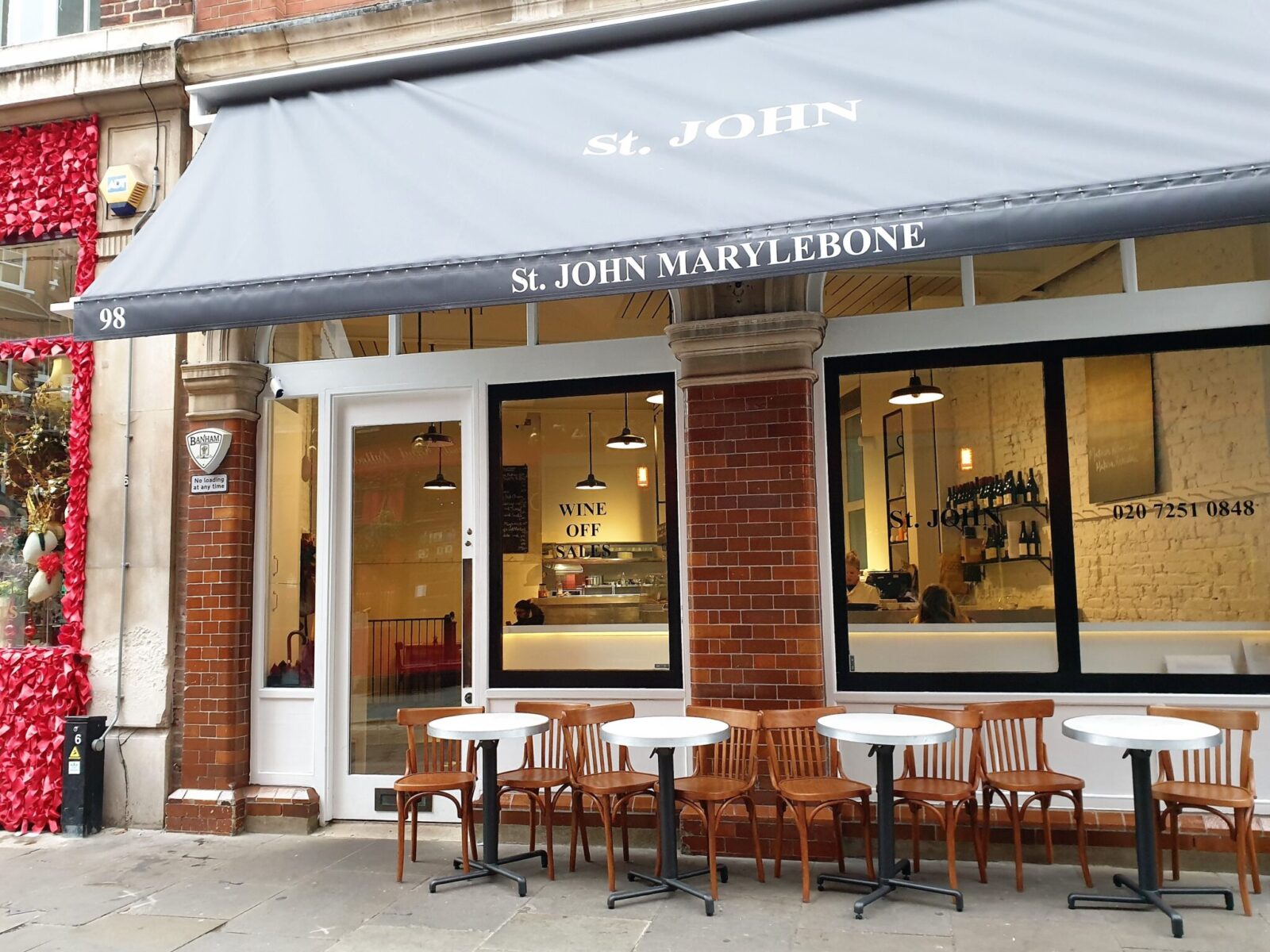 The third restaurant (plus numerous bakeries) in the lineage of landmark London restaurant St. John, which has set the standard  for locally sourced, wonderfully simple and traditional English food since the 1990's.  The original location in Farringdon still has one Michelin star, a feat for a restaurant where the decor is minimal and the simplicity of plate presentations can seem almost monasterial.  The latest branch in Marylebone, which opened in fall 2022, keeps to the same playbook of serving it's neighborhood all day long, starting with baked goods and coffee in the AM,   and easing into a short but satisfying daily chalkboard menu that evolves through the week and even through the day.  Despite St. John's reputation for nose-to-tale cooking (cold sliced pork with drippings bread), the chalkboard also featured a selection of satisfying vegetable dishes and salads (salted cabbage and dill:  beets with pickled walnut).  Hard boiled eggs with anchovies were also outstanding. If these dishes sound simple, that is really the point:  good ingredients, simply prepared with respect for technique and tradition. What more could you ask?
The wine list is long, filled with interesting organic and natural choices (we had a white Rhone from Eric Texier) with good options in all price ranges starting at about 40 pounds.  For dessert, we had the Eccles cake, a sort of turnover stuffed with mincemeat and served warm with a fat slice of farmhouse cheddar from Neil's Yard…yummy!
The service is casual but efficient, and the servers seemed genuinely happy to serve and to show their knowledge and enthusiasm for the menu.  We dined in the late afternoon, in the slow period between lunch and dinner, but there was no drop-off in the quality of the welcome. Our server was able to give chapter and verse on every plate, including a robust pitch for the Eccles cake, which we had failed to order…great recommendation! Later, when we had finished, our server had nipped out for a break on the terrace of the cafe next door, before dinner service. But he still took the time to thank us for our visit as we passed.
St. John Marylebone
Address: 98 Marylebone Ln, London W1U 2JE, United Kingdom
Tel:  +44 20 7251 0848  
Reservations: accepted up to one month in advance and recommended.  The upstairs bar is available for walk ins